Housing
Camp Halibut is a very nice place to stay and you will find that we have exceptional service. There are three housing alternatives from July 2023. Double bedrooms with separate WC/ shower and shared kitchen, dining hall and lounging areas. Newly renovated apartments with a seperate entrance, a small sauna and everything else you need. A newly renovated 85 square meter house with four bedrooms. All housing is within 40 meters from the filét room and 50 meters from the sea.
The boats are around 75 meters from the main entrance. There is a 50m long bridge down to the dock and it is easy to bring a barrel with fish or gear all the way down. On the long side of the house you will find a nice filét room, freezers and a dry room.
We will have the capacity of 24 people when we open in 2024. (Unless you are more than four in the boats, then you can be a few more people). 12 beds in the double bedrooms, 8 beds in the apartments and 4 beds in the neighbor house. This means we have a few very nice options for bigger groups depending on how many you are.
The double bedrooms
The package includes a boat and two double bedrooms. All rooms are quite nice and have their own WC and shower with heated floor. Sheet, towels, toilet paper, soap and final cleaning is included in the price. There are six double bedrooms in the main building. A total of 12 people are sharing a well planned kitchen, a big living room and a dining room. These areas are around 200 square meters so there are a lot of space. Many people really appreciate this option since you get to know likeminded people. We are planning the fishing together and keep contact out at sea over the radio. Compared to most other camps you will have a lot of time with the guides here. We are around every day to help out, answer questions and talk about fishing. It is probably the main reason to why our guests generally catch so much fish.
It is no problem if you want to be five people in the group. We will give you one of the slightly bigger rooms and put an extra bed in for 1000 NOK extra. You wont have as much space but it works just fine for most people.
You can see pictures of the double bedrooms and the shared areas down below.
The price for an Arronet 23,5 SPT 2 with a 200hp Yamaha and housing in two double bedrooms is 30,000 NOK. That means 7500 NOK per person if you are a group of four people.
Bigger groups
This option is of course a perfect alternative for groups of 10-12 people. You will have six bedrooms and 200 square meter to yourself.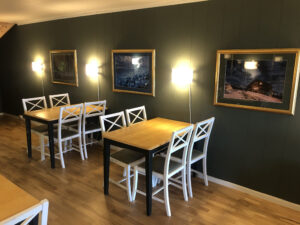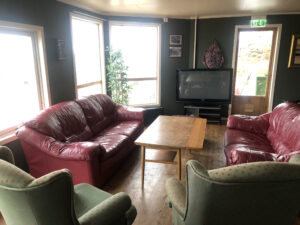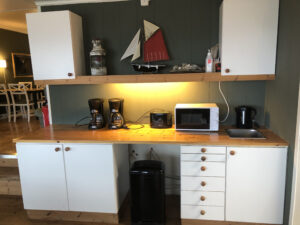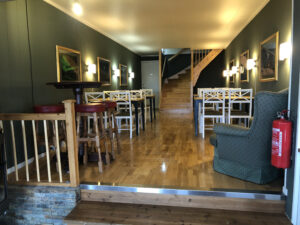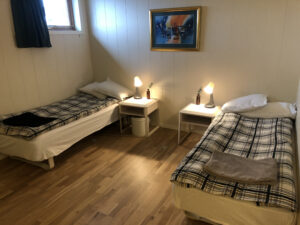 The apartments
We are building two new apartments with a separate entrance on the long side of the house in between the filét room and the main entrance. One is already done and is rented out from 15/5 2023 and one will be available early 2024.They are small but very well planned. In 34 square meters you have seating for four people in front of a TV where you can connect via chromecast. You have a small sauna, WC and shower. Kitchen with every thing you need and a kitchen table where you can eat and rig your gear up for fishing. There are two bedrooms in each apartment with a very stable wall mounted bed loft. We have had very good feedback on the bedrooms so far. They get as dark as you want which is highly appreciated here during the midnight sun season. You cannot be five people in these apartments unless two people sleep together in one of the bottom 120-beds.
Both apartments are next to each other with a big door in between. This is locked unless you are a big group renting both apartments. Then we can open the door and you will have one big apartment for up to 8 people. It is a dream alternative for groups of 6-8 people.
The price for one Arronet 23,5 SPT 2 with a 200hp Yamaha and housing in one apartment is 34,000 NOK. That means 8500 NOK per person if you are a group of four people.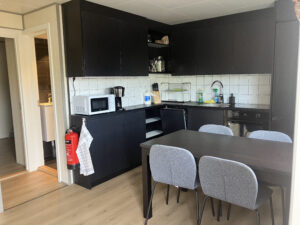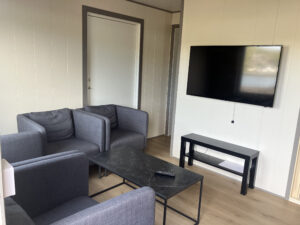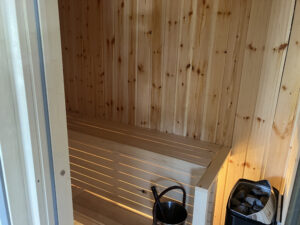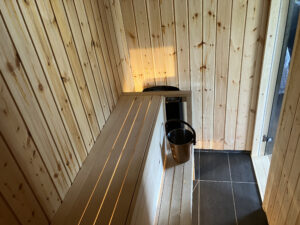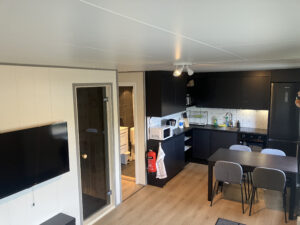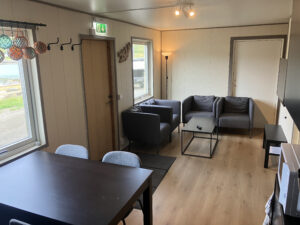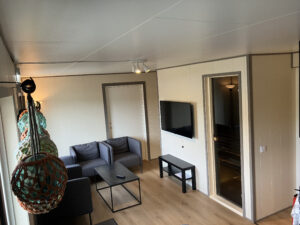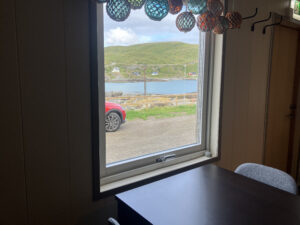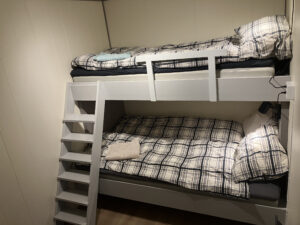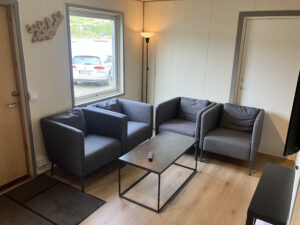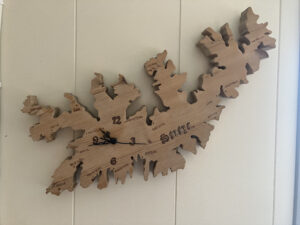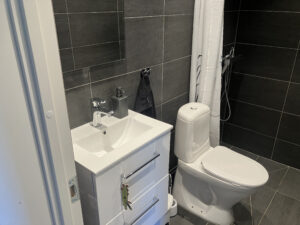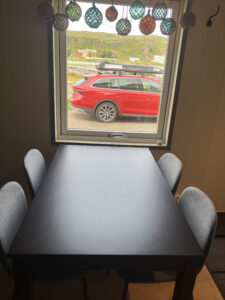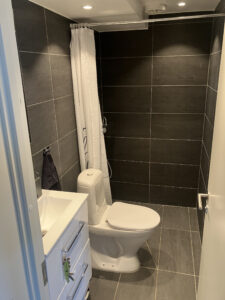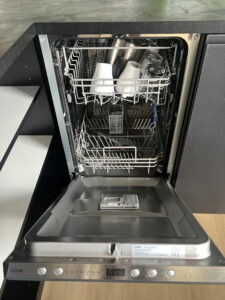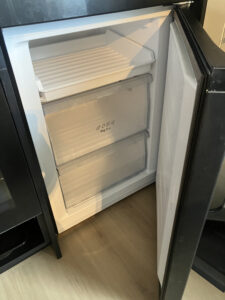 The neighbor house
The house next to the camp is being ronovated and will be rented out from July 2023. It is 85 square meters and have a fantastic view. It is located around 50 meters from the sea and around 40 meters from the filét room. The house has loads of space, a big terrace which is partly glazed and has four bedrooms. It is a very comfortable housing option for those who want to enjoy themselves even when you are not fishing. 
The price for a GJ 750 with a 200hp Suzuki and housing in the neighbor house is 40,000 NOK. This means 10,000 NOK per person if you are a group of four people.